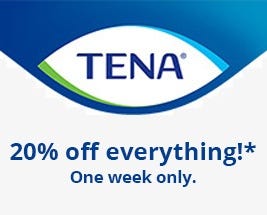 20% OFF ALL TENA LINES FOR ONE WEEK!
*Ends midnight Sunday 23rd June. 20% saving when bought on subscription. Save over 10% when bought as a one time purchase.
TENA are at the forefront of developing incontinence products to meet the needs of individuals, carers, clinicians and healthcare services around the world.
TENA has over 50 years experience and a presence throughout 90 countries. As one of the most recognisable brands for incontinence products worldwide, a high level of quality assurance is incorporated in all their products.
Click here for our buyers guide.