Mattress Cleaning Products

(4 Products)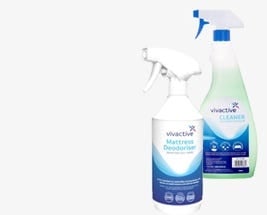 Our range of Mattress Cleaning products have been specially designed to offer a four-step approach for cleaning your mattress. Our Urine Cleaner, Stain Remover, Deodoriser and Air Freshener are most effective when used together, ensuring you get the most out of your bedding and mattress.
Our Urine Cleaner is a multipurpose cleaning spray, perfect for fighting odours and replacing them with a more pleasant, fragrant scent. For deeper stains, our Stain Remover quickly tackles marks left on soft furnishings from urine or faeces, with no need to scrub the area.
Our Deodoriser then gets to work on the odour by eradicating the bacteria that causes any unwanted smells and leaves a long-lasting fresh linen scent in their place. Finally, our Air Freshener contains natural bacteria to ensure the area is left smelling fresh and welcoming.