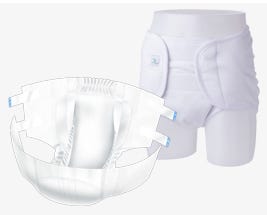 Adult Nappies have been specially designed to be suitable for different types of incontinence, and are available in both disposable and washable options.
Disposable Adult Nappies are suitable for both severe urinary and faecal incontinence, and may also be referred to as 'all in ones' or 'incontinence slips'. Disposable Nappies are particularly suitable for those with limited mobility/in full-time care, though they do provide a solution for all. 
Washable Adult Nappies can be worn as a standalone item with a variety of absorbencies available, but are also useful when worn over disposable products, in order to provide superior levels of protection.