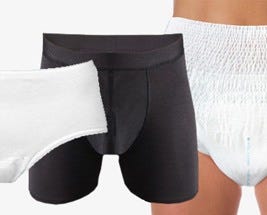 At Incontinence Choice, you'll find the largest and most diverse range of Pants & All in Ones in the UK, providing trusted brands such as TENA, Depend, Lille and Vivactive, at prices you won't find anywhere else.
Incontinence Pants and All in Ones fall under two main categories – 'Disposable' and 'Washable', and their primary purpose is to keep you feeling dry, secure and confident. Both types of incontinence pants come in a range of sizes and absorbency levels, with many featuring a waterproof layer.
Pants (or 'adult pull-ups') have an elasticated waist and can be pulled up and down like regular underwear.
All in Ones (or 'slips'), are what many people would refer to as adult nappies. They are held in place by fastening straps or tabs.