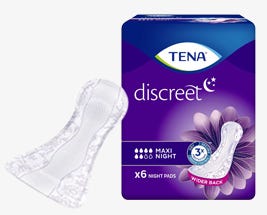 Please note: TENA Lady is currently undergoing a rebrand, and will be changing to TENA Discreet. There will be new packaging to reflect the name change as well as upgrades to some of the products in order to improve performance and fit.
TENA Lady is a range of TENA pads and pants especially designed for women to protect against light urinary incontinence or bladder weakness. Designed to be discreet, comfortable and close-fitting to cater to an active and outgoing lifestyle.
TENA Lady Mini are for light incontinence, TENA Lady Normal for light-medium incontinence, TENA Lady Extra for medium levels of incontinence and TENA Lady Comfort are a longer version of TENA Lady Extra for additional comfort.