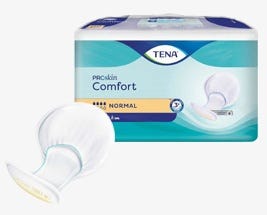 Please note: TENA Comfort has recently been upgraded and rebranded to TENA Proskin Comfort. The upgraded version includes a new top sheet and distribution layers, making it even more effective at keeping liquid away from the surface of the skin.
TENA Comfort Pads are designed to be incredibly secure, and very comfortable to wear. With a contoured bowl shape and a feel dry layer, they ensure a close fit to the user's body and rapid absorption for maximum protection.
All TENA Comfort pads have a built-in wetness indicator to show when the product needs to be changed, and are a very cost-effective option for extended use. With a range that offers protection against light, moderate and heavy incontinence, you can be sure to find a TENA pad to suit you.