Disposable Dog Nappies

(5 Products)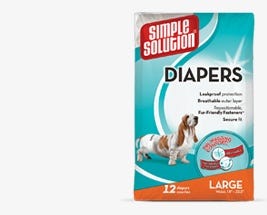 Disposable Dog Nappies or Diapers are a convenient solution for owners with incontinent pets. Easily fitted they are highly absorbent and can be easily disposed of. The adhesive tabs will not pull your pets fur and the soft material is kind to skin. They are available in various sizes depending on your breed.
If you are looking for a more cost effective solution please visit our washable dog diapers section.