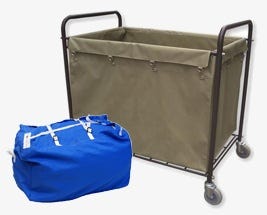 Our range of laundry products are ideal for both professional and domestic environments, including laundry trolleys, bags and roll cages.
Laundry Trolleys are available across a variety of capacities and also come with frame-only options. 
Our Container Trucks are heavy duty and ideal for transporting damp clothes/linen. 
Laundry Roll Cages are available across a number of styles and sizes and are again ideal for the transportation of large amounts of laundry.