Washable Incontinence Pants For Children

(4 Products)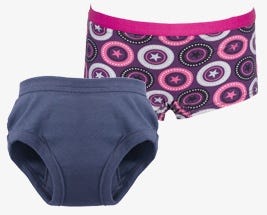 A great selection of girls and boys washable and protective incontinence pants that have been designed to look like a regular pair of underwear.
The washable pants can absorb up to 150ml of fluid and come in different sizes for children up to 12 years old. They are designed to lock fluid away to keep the skin dry and warm for increased comfort, whilst also being incredibly discreet with a fit that easily disappears under clothing.
For more information on children sizing check our child size guide here.
Go back to Incontinence Pants