Washable Incontinence Pants for Adults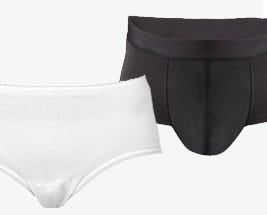 Our range of Washable Incontinence Pants for Adults covers a variety of pant styles, with different purposes depending on your preference. 
If you're looking for an absorbent product for very light or light urinary incontinence, our Absorbent Washable Incontinence Pants are designed to look and feel like regular underwear, making them the most discreet kind of incontinence pants on the market. They contain a built-in waterproof liner to help you feel protected from little leaks.
If you prefer to wear disposable products such as pull-up pants or adult nappies, but are also looking some extra security and peace of mind against odours/leaks, we also offer Waterproof Washable Incontinence Pants. These are not absorbent but are waterproof in order to provide a protective seal against leaks when worn over disposable options.
Net and fixation pants are designed to be worn in conjunction with a large shaped pad or any other pad to help secure it close to the body to help prevent leaks.
Go back to Incontinence Pants