Abena Abri-San (Shaped Pads)

(30 Products)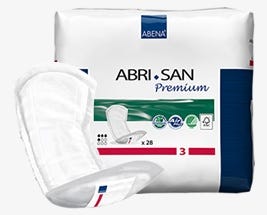 The Abri-San Small Shaped Pads (1-4) are ergonomically designed to fit close to the body. The super soft material and adhesive backing enable comfort and security. Discreet, hygienic and individually wrapped for convenience.
Abri-San Large Shaped Pads (5-11) are designed to offer higher levels of absorbency and include a leakage protection barrier. They are designed to be worn with stretch pants or underwear such as the Abena Bodystocking.