Laundry Trolleys & Bags

(50 Products)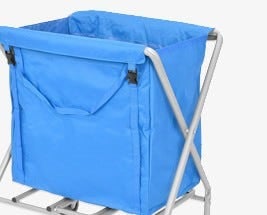 Laundry Bags and Laundry Carts provide hygienic transfer of dirty laundry. Soluble Laundry Bags can be used to transfer soiled items, they dissolve in the washing machine to reduce the risk of infection. The Polyester Laundry Bag with Drawstring Closure is available in a variety of colours.
There are several different Laundry Carts that are available. The Shaped Linen Truck folds away for easy storage. Alternatively, the Stainless Steel Lightweight Laundry Cart has four brakes and has an optional number of bags that are available in different colours.