Disposable Incontinence Pants

(265 Products)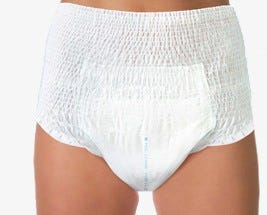 We supply the most comprehensive range of disposable pull-up pants available, at significantly lower prices than your local supermarket or chemist. Disposable Incontinence Pants (or 'adult pull-ups') are designed to be worn like regular underwear. They come in a range of different sizes and absorbency levels to fit all body shapes, and can be used to combat both urinary and faecal incontinence.
Disposable pull-up pants are discreet, easy to put on and remove, and can be conveniently disposed of. They provide a perfect solution for those with an active lifestyle, or anyone seeking incontinence pants that look and feel like regular underwear. 
Go back to Incontinence Pants