Disposable Pull Up Pants

(177 Products)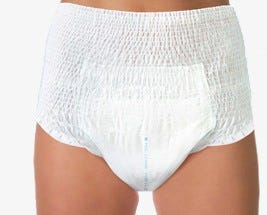 Pull Ups are for active people with moderate to heavy incontinence, who are looking for convenient, disposable products. Pull Ups provide higher security which helps ensure peace of mind. Our pull up ranges include incontinence odour protection and are torn at the side for easy removal.
If you are looking for a reusable, washable solution instead of disposables please see the Washable Incontinence Pants section.
If you're looking for expert advice on pull-ups read our buyers guide here