Washable Incontinence Pants for Adults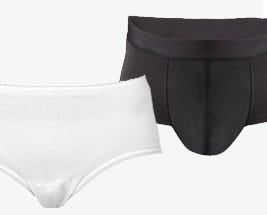 Washable Incontinence Pants (or incontinence boxers / briefs) are designed to look and feel like regular underwear, making them the most discreet kind of incontinence pants on the market. Created for very light and light urinary incontinence, washable pants contain a built-in absorbent pad and a waterproof liner to help you feel protected from little leaks.
Pouch Pants contain a built in "pouch" where an absorbent pad can be placed and held securely and discreetly in place. A waterproof liner build into the pouch pant also helps to give you confidence against leaks.
Net and fixation pants are desinged to be worn in conjunction with a large shaped pad or any other pad to help secure it close to the body to help prevent leaks.
Go back to Incontinence Pants