Washable Incontinence Pants for Adults

(103 Products)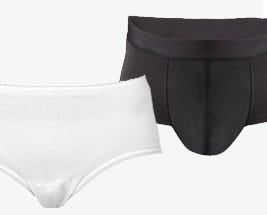 Washable Incontinence Pants look and feel just like regular underwear, but offer the security of highly absorbent built-in pads to ensure discretion and confidence for light urinary incontinence.
Absorbency levels up to 488ml, washable pants make a great alternative to disposable products. We also offer washable pants without a built in pad, so that disposable pads of greater absorbences can be inserted.
For advice on washable incontinence pads view our buyers guide here
£10.99

£10.99

£7.79

£7.79

save £3.20 (29%)

£10.99

£10.99

£7.79

£7.79

save £3.20 (29%)

£10.99

£10.99

£7.79

£7.79

save £3.20 (29%)

£10.99

£10.99

£7.79

£7.79

save £3.20 (29%)

£10.99

£10.99

£7.79

£7.79

save £3.20 (29%)

£10.99

£10.99

£7.79

£7.79

save £3.20 (29%)